Getting to know The Llama Collective Team
Say hello to our resident superstars, our human handers, and check out our up and coming
'L' platers who we can't wait to start introducing to you all in the near future!
In a past life Viv was surely Mother Nature; her affinity with animals and all things green is evident in everything she does. Her pristine paddocks are a seamless mix of garden delights and animal havens, dominated of course by her llamas and alpacas. Her no fuss, down to earth personality, coupled with her flair for fun, makes Viv the perfect Llama Collective hostess. Her funky gumboot collection is also very impressive!
Lauren's passion for all creatures great and small was evident at an early age, as her family will attest. Her life is a whirlwind of llamas and alpacas, sprinkled with odd socks and laughter, and piled high with quick snacks and loads of sleep. Lauren's connection to the team is palatable, and she shares a secret bond with each of the animals in the group. Make sure you keep an eye out for her lucky cowboy boots.
Hamish likes to think of himself as the star of the show and don't try to tell him otherwise. He is quirky, fun loving and into everything you could possibly imagine. He thrives on the busy atmosphere at festivals and field days. Although not one to stand still for to long he is one of the most lovable llamas you will ever meet and is always up for greeting new people with a big llama kiss. You're never sure what he is going to get up to next but you know its going to be fun!
When people first meet James they tend to think of him as mysterious and brooding. He's the largest llama in the team and knows he is something spectacular. Although he can be quiet and a little more hesitant to say hello sometimes he's probably the gentlest llama in the group. Kind and patient he is a reliable 'calm in the storm' at some of our busier events. If you take the time to make friends with James you'll have a friend for life.
Tyrion is the king of the kids! He takes a no nonsense attitude with the young llamas and helps them to grow up well adjusted and with excellent manners. He also happens to be an absolute superstar. Tyrion is one of the most versatile llamas of the group and considering how adaptable llamas are thats saying something! He takes everything in his stride from pulling carts to kids birthday parties and everything in between. He is a delight to work with and be around, and loves people of all ages.
Flynn is the boss man of the llamas, what he says goes and the others are happy to follow him into all kinds of mischief. When out meeting new people however, he is an absolute lamb. He loves it when you speak to him softly and tell him he is a good boy. Although he would rather be lying in the sun being fanned by giant palm leaves and hand fed peeled grapes, he will still go for a stroll with his human companions. (If they ask nicely.)
Ambrose is an exceptional llama. He's bottom of the pecking order at home but a bit of a dark horse when out and about. He is proving to be very easy going and happy to please. Although a little shyer then the others his logical thinking lets him work through almost any situation. We are hoping he will be pulling the carts with Tyrion in the near future.
Byron is Hamish's little brother. He is three years old and the class clown! When he's not eating or sleeping he usually spends his days annoying the adult llamas. He loves making everyone run and play and fancies himself as pretty special. Although still learning the way of the world he is fun loving and really enjoys meeting new people.
Teak is really coming into his own now and is absolutely loving coming along to our llama walks! He is gentle and kind and very inquisitive while still full of cheeky youthful enthusiasm. Teak absolutely loves going on adventures with his human and llama friends. His favourite thing to do at home is have breakfast in bed!
Arlo is our bionic llama! As a baby he broke both his back legs at just nine days old and had to have them surgically repaired. As a result he now has two large metal plates in his back legs. Seeing him racing around the paddock however you would never know it! He is over two years old now and he is the happiest little boy you have ever met. Always the first one racing to meet you when you go into the paddock and hassling you for more pats. He loves going out and about although sometimes its a bit hard to convince him he shouldn't be running around at full speed checking everything out at once. His favourite activity is working in the llama kissing booth and he delights everyone he meets with his antics.
Silverado is one of our youngest working llamas. His best mate is Spudnik and the two of them are inseparable! He enjoys coming out on the llama walks and is enjoying learning more about the world with his human and llama friends!
Spudnik is a quiet boy who loves carrots (so so much) and going on adventures. His best mate is Silverado! Like two peas in a pod they are quick to find and investigate any potential toys or new playmates that come their way. We can't wait for this boy to mature a bit more and start coming along on more outings.
Marcus is always first to greet you at the gate when the dinner bell rings and last to go back to bed once it's over. He loves his tucker and a late meal is cause for extreme concern if you ask him!! He enjoys bribing as many carrots as possible from anyone who is nearby while we are out and about but he will pay you back by smiling straight at the camera for your photos and selfies.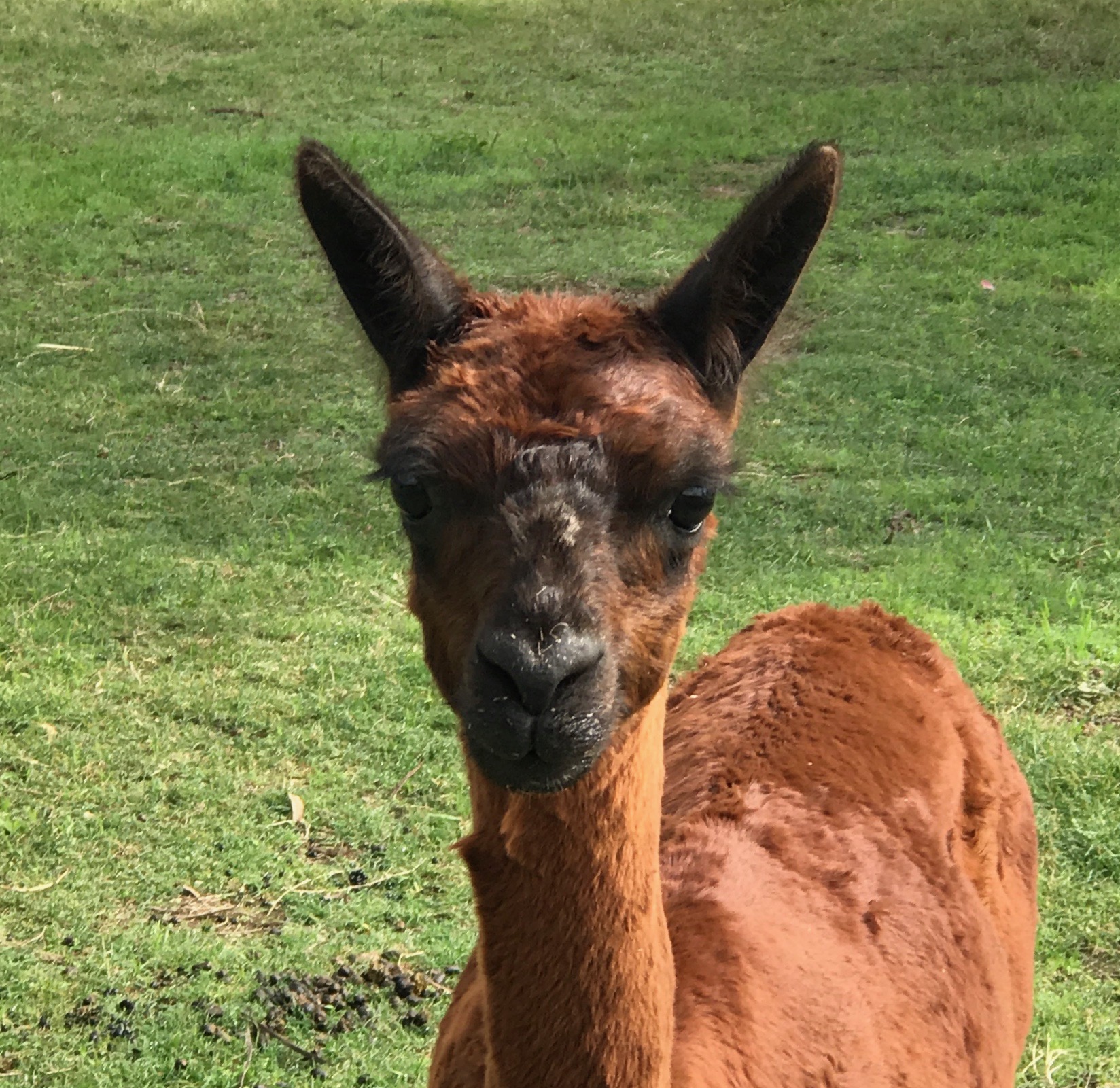 Stryder is a little different to the other boys. Whenever we take him out we are met by the inevitable 'look at the baby' exclamations. Stryder is actually full grown - he's an alpaca!! Tiny in stature compared to his cousins the llamas, he looks like a little babe but rest assured - he absolutely doesn't know it! He is the perfect gentleman while out on walks, quiet and attentive to his handlers he would do anything for a piece of carrot (or ten!)
Elliot is (at present) one of only two only alpacas on The Llama Collective team. He was born here on the farm and from day one has captured the hearts of everyone he meets. Elliot's small size and easy going personality means he is perfect for attending jobs that the llamas are a bit too big for! Elliot excels at nursing home visits, he casually strolls the halls peering in doorways and sneaking into rooms in search of residents for pats and kisses.
Check out our 'L' plate crew below!